Congratulations on your acceptance and welcome to UMBC.
As Vice President for Student Affairs, I am proud to work with the staff and students who deliver the many programs and activities designed to enhance your experience outside of the classroom while supporting your academic work. Your experiences at UMBC will be enhanced by your level of motivation and engagement both inside and outside of the classroom.
The diversity of our student organizations, all supported by the Student Government Association, reflects the many varied interests of our students and contributes to an exciting campus life. Students at UMBC are involved in everything from cultural and academic clubs, service organizations and political groups to social fraternities and sororities, arts groups, dance clubs and martial arts.
In addition to student organizations, don't forget to look into our exciting athletics programs. The UMBC Retrievers compete in the NCAA Division I America East Conference, which brings a high level of athletic competition and school spirit to the campus. The Department of Athletics is also home to our popular intramurals and club sports programs and offers a number of physical education classes from skiing and tennis to basketball and scuba diving.
These are just a sampling of the many great and varied activities, organizations, and opportunities that await you at UMBC. I encourage you to take full advantage to become engaged with your UMBC; these are the things that will make your educational experience exceptional. Again, congratulations on your acceptance. I look forward to seeing you this year.
Sincerely,
Dr. Nancy Young, Ph. D.
Vice President for Student Affairs
Unity Welcome Week Project
UMBC Down and Dirty Dawg Band
Questions You Didn't Know
You Had
MAIL LETTER OR PACKAGE... Campus Card & Mail Services on the first floor of the University Center.
BUY A TICKET TO AN ON CAMPUS EVENT... You can purchase tickets at tickets.umbc.edu
PRINT MY HOMEWORK... commonvision Print and Design Center on the third floor of The Commons has the cheapest printing on campus. You can also print at the CIC or in the Library.
CHANGE MY MAJOR... The Registrar Sherman Hall – B Wing – 2nd Floor.
BUY LAUNDRY DETERGENT... The Yum Shoppe and Outtakes in True Grit's both sell laundry supplies.
BUY SCHOOL SUPPLIES FOR MY CLASSES... The ground floor of The Bookstore offers materials for a variety of classes.
RENT A DVD... The Media Department on the second floor of The Library offers a wide variety of DVDs to check out.
RUN ON THE TREADMILL OR LIFT WEIGHTS... The RAC offers a number of cardio machines and has a fully equipped weight room. There are also basketball courts available for recreational use.
Find out where to eat with Chartwells Dine On Campus!
What are Meal Deals? Most dining locations have "meal deals" where you get a certain amount of food for a meal. True Grit's is all you care to eat for one meal. If you opt out of the meal deal, any purchases under $6.25 constitute a meal. Unless you purchase the "The Ultimate" meal plan which has unlimited meals at True Grit's, however only one meal can be used per meal period in other dining locations.
WHAT ARE CHARTWELL'S REWARDS?
Chartwells Reward Points may be used at any Dining Services venue in lieu of cash. They are earned for the following activities:
2% of a deposit to a Campus Card Food Fund Account.
2% of the purchase price of a Voluntary Meal Plan.
Off-Campus Merchants are vendors who will accept the campus card as a method of payment. These merchants can only accept Campus Cash for payment – Meal Plans and Flex cannot be used. Except for Papa Johns which will accept Flex in addition to Campus Cash.
Other Options
Once in a while Baltimore City Food Trucks visit campus, keep on the lookout for these dates.
(seb) hosts events on campus, many of which have free food.
If you go to a movie on Thursday, Friday, or Saturday night in Lecture Hall 1 (LH1), there's popcorn.
There are frequently bake sales by student orgs on Main Street in The Commons, The Breezeway, and The Terrace.
Make sure you get involved and attend student org events as well as visiting lecturers, because there are often refreshments at these events.
Retriever Essentials
UMBC is proud to launch Retriever Essentials: a new faculty, staff, and student partnership to tackle food insecurity in our university community. Retriever Essentials is launching three ways for students to access healthy foods and other essential supplies, free of charge. Paired with these resources are opportunities for UMBC community members to offer support.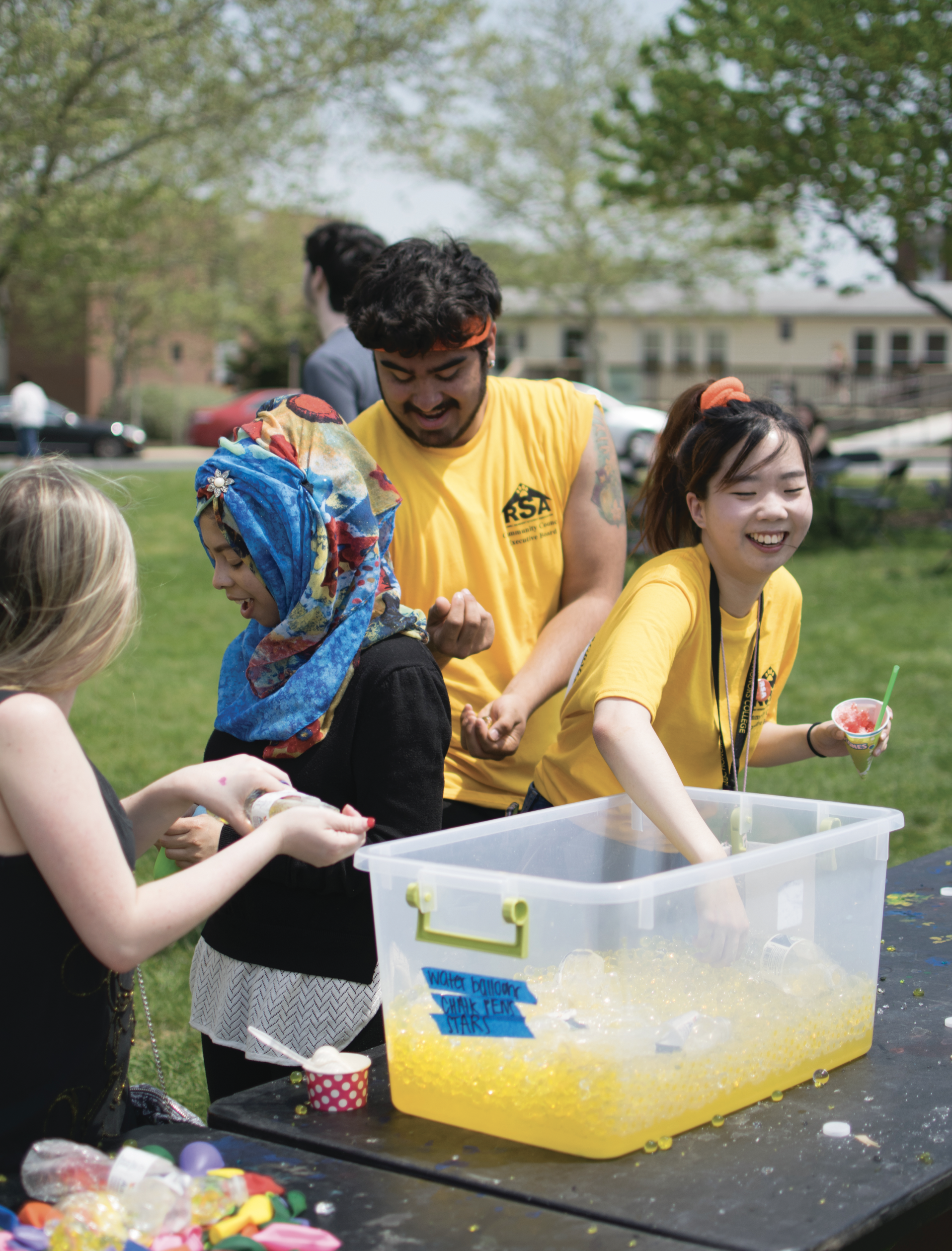 There are countless ways to get involved at UMBC. We have over 270 student organizations including religious and ethnic clubs, groups for a myriad of hobbies and sports, career and professional organizations, service and volunteer oriented groups, as well as 20 Fraternity and Sorority chapters. Make sure you attend Involvement Fest at the beginning of each semester so you can get to know some of the organizations you may be interested in joining. In addition, OCSS hosts events specifically for commuter and transfer students. You can find a list of all the student organizations on campus on the Campus Life website.
"The best choice I made at UMBC was living on campus and getting involved. Being part of different, clubs, organization, and working on campus really help me integrate myself into the fabric of the community and expanded my support structure for the moments when I needed help the most!"
-Arooj Rana, '06
UMBC Student Events Board
Did you know that (seb) hosts an event almost every single day of the semester? Many of these events offer free food! Homecoming and Quadmania are the signature events of the Fall and Spring semesters respectively. There are performers, a carnival with rides, and of course food.
Have you ever felt like you were falling behind in a class? No matter what the academic issue you're having is, UMBC has an answer. Below is a list of different ways you can get help with homework, papers, course material, and test prep. 
The Learning Resources Center (LRC)
The Learning Resources Center (LRC) is UMBC's undergraduate academic support program designed to help students reach their academic goals and become independent, lifelong learners. 
UMBC's Writing Center, located in the AOK Library, is happy to assist students with writing assignments in any UMBC course. 
The LRC offers tutoring in most first- and second-level classes. They offer tutoring in three locations: the Math Lab, The Writing Center and the Tutorial Center for appointment tutoring. 
Supplemental Instruction (SI) is an academic support model that utilizes peer assisted study sessions (PASS). The PASS_SI program targets difficult academic courses and provides regularly scheduled, out-of-class review sessions. The sessions are informal seminars in which students compare notes, discuss readings and develop organizational tools and predict test items. 
English Language Institute (ELI) 
The LRC offers English as a Second Language tutoring for students in LRC 115 or for any student that would like extra practice with their conversation skills. The tutoring is one-on-one, for 50 minutes a week, and meets at the same time every week. You can enroll using the Enrollment Form. The English Language Institute at UMBC also offers conversation partners. 
The Math Gym provides a framework of connecting the practice to class work in a tangible way. The Math Gym features "conditioning coaches" and "personal trainers" who will help students keep their foundational math skills in good working order. It promotes healthy math habits among all our students, drawing a clear analogy between the regular work outs and conditioning needed to maintain both athletic and mathematical skill. 
"The Writing Center really makes you take a step back and go through your thought process rather than just fixing typos. It has really helped me become a stronger writer."
-Bradley Ingram, '18
The UMBC Bookstore carries almost all of the textbooks required by professors in all subject matters. You can order online or go in person. At the end of the semester you can even return used textbooks for cash! The bookstore also has school supplies, tech merchandise including laptops at a discounted rate, and awesome UMBC apparel and gear.
Need a paper printed for class? commonvision has the cheapest printing on campus! But wait! They can do much more than just print essays. They can print posters, booklets, brochures, banners, flyers, business cards, tickets and more. Plus you or your student organization can take advantage of the graphic designer's and animator's skills to create an advertisement for your organization. 
The Albin O. Kuhn Gallery serves as one of the principal art galleries in the region. Items from the Special Collections Department, as well as art and artifacts from all over the world are displayed in challenging and informative exhibitions for the University community and the public. Moreover, traveling exhibitions are occasionally presented, and the Gallery also sends some of its exhibits throughout the state and nation. You may bring classes to the Gallery any time it is open, and by appointment. 
The Special Collections department collects materials of enduring historical and cultural value. Their diverse collections include a wide variety of formats such as rare books, photographs, manuscripts, archives, audio and visual recordings, digital items and artifacts. Some classes require you to visit here for special essays and papers. They are available for research use on site by all. 
Center for Art Design and Visual Culture (CADVC)
The CADVC is located on the first floor of the Fine Arts Building. The CADVC is a non-profit organization dedicated to organizing comprehensive exhibitions, the publication of catalogs, CDs, DVDs and books on the arts, and educational and community outreach projects. All events held in the CADVC are free and open to all ages unless otherwise indicated. 
Retriever Learning Center (RLC)
The RLC is one of the central spaces in UMBC for learning and creative activity and a key point in achieving student success. It will provide varied and flexible 24/7 work spaces, easy access to assistance for research, computing and tutorial needs, the latest technologies for learning activities, comfortable space with access to food and drink. 
The Rock Garden
The Joseph Beuys Sculpture Park and Rock Garden is a great spot to relax under the shade of the oak trees and listen to the birds. This has been a great thinking spot for UMBC students for years. There is a journal hidden under one of the benches for anyone who finds it to write in. The entries are archived by the CADVC. 
The Gameroom is located on the second floor of The Commons. They offer billiards, foosball, board games, table tennis, video games, and snacks all for a very low price (board games are free!) For $5, Rewards Club members receive free entry to all Gameroom tournaments by presenting their card, and get half-price play on Tuesdays and Thursdays. The Gameroom is also a great venue for events! 
UMBC's Police Department provides police service 24 hours a day throughout the year. The Police Department is located across the staff parking lot from the Performing Arts and Humanities Building. The Police staff includes sworn police officers, communications specialists, and student marshals. UMBC Police officers respond to criminal offenses, service requests, complaints, and other safety issues on campus. 
The Women's Center advances gender equity from an intersectional feminist perspective through co-curricular programming, support services, and advocacy for marginalized individuals and communities. We prioritize critical social justice with a deliberate focus on women, gender, anti-racism, and feminism. All are welcome as long as they respect women. Their experiences. Their stories. Their potential. Located on the ground floor of The Commons 
Dinner and a Movie: Want to have a night out without going too far from campus? The Hollywood Cinema on Oregon Avenue in Arbutus is the perfect spot. Stop by Paul's Restaurant right next door for a bite to eat before the show, you can even use campus cash here!
Discounted Pizza: At the Sorrento of Arbutus they have some great deals for UMBC students. You can get $1 Off Any Large Pizza and you can get a Cheesesteak or Chicken Cheese Steak, Fries and a Drink for just $9.09. Remember you must present your Red ID when paying for your order. For your convenience they also accept the UMBC red card.
A Sweet Treat: If you want to visit the best ice cream shop in the world, you are in luck, The Ice Cream Cottage is right around the corner on Stevens Avenue. They offer Hershey's hand-dipped ice cream, soda floats, sundaes, and more.
Special Events
Arts Festival: Usually the third week in May the Arbutus Arts Festival takes place. This festival was the 2014 Winner for Best Community Event in Baltimore County. There is food, drinks, local music, a classic car show and of course plenty of artwork to view and purchase. It is a great way to kick off summer!
Santa Arrives: Every year at the beginning of December at the Arbutus Town Hall on Stevens Avenue, the Arbutus Business & Professional Association (ABPA) hosts a Santa's Arrival event. This is a fun event for people of all ages! Activities include building bird houses and a moon bounce, it's something everyone can look forward to!
Beautification Day: Every year, during the last weekend in April, there is a community beautification project in Arbutus. Get outside and help your neighboring community with their Spring cleaning! There is a stream clean up and lots of flowers to plant, so come prepared!
OUT & ABOUT
ENTERTAINMENT
Benjamin Banneker Historical Park & Museum
HIKING
SEASONAL EVENTS
FLEA MARKET
Every 3rd Saturday from April through October there is a Community Flea Market.
Trinity United Methodist Church
Hours: 8am - 1pm
FARMER'S MARKET
The Market is open Sundays starting on May 1 and continuing every week (rain or shine) up until the weekend before Thanksgiving, Sunday November 20.
730 Frederick Road, in the parking lot behind Friendly's.
Hours:10am - 1:30pm
DOSA
DOSA STANDS FOR THE DIVISION OF STUDENT AFFAIRS
Our mission is to facilitate learning and prepare students for success in our multi-cultural and increasingly global society and work force.
We accomplish our mission by:
providing and co-creating programs, services, systems, facilities and safe environments that foster learning and personal development.
collaborating with and facilitating relationships between students and among students, faculty, staff and others from the university and community to integrate curricular and co- curricular experiences.
leveraging the expertise within student affairs to assist faculty, staff and students in areas of strength such as interpersonal and cultural competence; civic engagement, community and leadership development; work force and career development; public health and safety.
DOSA is made up of 10 the Departments listed below:
Nancy Young, Ph.D.
Vice President for Student Affairs
(410) 455-3013
Kim Leisey, Ph.D.
Associate Vice President for Student Affairs
(410) 455-2393
Physical Education and Recreation offers something for everyone within the UMBC community. UMBC competes at the NCAA Division I level in 19 varsity sports. The Retrievers are members of the America East Conference. All students, faculty and staff have access to a wide array of open play and fitness activities held in the RAC and on exterior courts and fields. Available for student use there is a cardio balcony with treadmills and elliptical machines, a weight room, recreational basketball courts, tennis courts an indoor and an outdoor swimming pool. Visit the RAC website to check the availability and hours of these spaces.
Off-Campus Student Services (OCSS)
The primary goal of OCSS is to offer ongoing services, programs, academic and social support, and educational opportunities to help off-campus students successfully navigate UMBC and life after college.
OCSS offers off-campus housing tours and partners with a number of local apartment complexes. OCSS also organizes carpooling for students who want to ride to campus with other students. Visit zimride.com for more information on carpooling.
The commuter gold card can be purchased at the OCSS desk in The Commons. The Commuter Gold Card entitles you to breakfast at good morning commuters and other additional benefits.
Campus Life at UMBC significantly shapes the student experience. From getting involved in campus events to joining student organizations, from exploring diverse cultures to learning about spiritual practices, from shaping new leaders to serving local communities, from fraternity and sorority bonds to Student Government board meetings – students create their Campus Life. Students are the reason for it, they make it happen, and they create it with their passions, ideas, dialogues, and programs. Through involvement in the countless student activities, students have the opportunities to meet new people, try new things, and engage in learning opportunities that complement their academic experiences.
The UMBC Career Center aims to empower all students and graduates to create their own success stories. Our team of talented and dedicated professionals are here to help you explore your career options, weigh decisions, and gain experience through internships, co-ops, and research positions. We will also connect you to employers seeking to hire UMBC talent through on-campus networking events and career fairs.
There are dozens of resume workshops, job fairs, networking events, and other career building opportunities offered each semester. Make sure you are checking events.umbc.edu or the Career Center's website to stay up to date.
Residential Life is responsible for operating and maintaining the residential facilities as well as coordinating programs and services for the students who live on campus.
Residence Halls
Chesapeake, Erickson, Harbor, Patapsco, Potomac, Susquehanna
Apartments
Hillside, Terrace, Walker Avenue, West Hill
If you need to get somewhere but you don't have a car, or you just want to be more environmentally conscious and take public transportation, chances are UMBC's shuttle or charter bus system can get you there. Shuttle routes cover residential communities near campus, as well as shopping areas surrounding UMBC. There are seven shuttle bus routes listed below. Maps, stops, and times can be found at umbc.edu/transit/routes
The Counseling Center exists to offer professional psychological services to UMBC students to enhance their personal growth, enrich their lives, and maximize their ability to function successfully academically.
The Mind Spa is a resource with tools to help you relax, improve concentration and memory, and overall success as a student. The Mind Spa is an important campus resource as it is a space equipped for practice of mindfulness, meditation, relaxation, and overall self-care. Practice of mindfulness and meditation have important physical and mental health benefits such as increased concentration, awareness, and regulation of emotions.
Student Conduct and Community Standards
The Office of Student Conduct and Community Standards supports the University's dedication to student success and its educational purposes and goals by publishing, enforcing, drafting and interpreting standards of student behavior and related policies and procedures; facilitates student and community development and ethical growth opportunities promoting personal integrity, civility, self-responsibility, citizenship and appreciation for diversity; works to maintain a safe and productive environment supporting the University's educational purpose and the students' educational goals; and promotes the privileges and responsibilities associated with a student's affiliation with the University.
All registered UMBC students, faculty and staff are eligible to use UHS for their health care and health education.
Clinical Services
Clinical Services at UHS are designed to provide holistic, high quality primary and urgent care services. You may be seen at UHS by appointment or as a walk-in.
Hungry? Bored? Tired? Need a place to study? Hang out? Meet new people? Get involved? The Commons is the answer to all of your questions. Sometimes referred to as the "Family Room" of campus, this is a place where people can gather together for lunch, a study session, a club meeting, or just hang out and relax. Below is a floor by floor listing of all the resources found in The Commons.
OUTSIDE
The Breezeway
The Terrace
The Quad
GROUND FLOOR
The Women's Center
The Yum Shoppe
1ST FLOOR & LOBBY
Main Street
Main Street Lounge
Social Justice Lounge
Lower Flat Tuesdays
The Bookstore
The Campus Information Center (CIC)
Off-Campus Student Services (OCSS)
PNC Bank
Au Bon Pain
2.Mato
Pollo
Outtakes
Salsarita's
Masala
Wild Greens
MEZZANINE & 2ND FLOOR
The Gameroom
The Student Org Space
The Sports Zone
The Mosaic Center
The Student Events Board (seb)
Student Government Association (SGA)
UMBC Greek
Mondo's Subs
Hissho Sushi
Flat Tuesday's
3RD FLOOR
The Fireside Lounge
commonvision
Student Affairs Business Services Center
Student Affairs Payroll Center
Office of the VP of Student Affairs
Event Planning
Graduate Student Association (GSA)
Student Life
The Skylight Room
Conference Rooms
SMOKE FREE CAMPUS
CLEAN AIR. CLEAN CAMPUS. 
HERE'S WHAT YOU NEED TO KNOW ABOUT THE UMBC CAMPUS SMOKING POLICY: 
University enforcement personnel will be issuing written warnings. Smoking outside designated smoking areas will result in a $50 fine. E-Cigarettes are not permitted indoors. 
Enforcement is everyone's responsibility. If you see someone smoking on campus please politely inform them of the new policy. If you do not feel comfortable approaching someone violating the policy, we ask that you report the incident. 
For more information visit smokefree.umbc.edu
SEXUAL MISCONDUCT and other related misconduct
UMBC is fully committed to providing an environment where all UMBC community members are treated with respect and dignity and UMBC community member differences are honored. To achieve this environment, the University recognizes its responsibility to maintain an environment which is free from Sexual Misconduct and other Related Misconduct. 
For more information visit humanrelations.umbc.edu/sexual-misconduct/